Criminal Defense Attorneys
We pursue Criminal Prosecutions for individuals who are victims of Drug Case, Fraud Crimes, Embezzlement, Money Laundering, Extradition, Sex Crimes, Theft, Burglary, Larceny, Shoplifting, Murder, Attempted Murder, etc. that resulted from business dealings in Thailand.
Civil Prosecution Lawyers
We pursue Civil Prosecutions to obtain financial reimbursement for individuals and companies who are victims of Fraud, Embezzlement, Theft, Breach of Contract, etc. that resulted from business dealings in Thailand. We immediately petition the court to freeze assets and then institute the seizure and sale of offender assets to compensate victims of crimes.
Criminal Prosecution Lawyers
Thai law permits private individuals to prosecute other private individuals with criminal penalties. Our lawyers can prosecute individuals on your behalf with the same effect as if the case were prosecuted by the police and a government prosecutor. Criminal penalties as well as monetary compensation apply.
Family Law Attorneys
Compassionately managing the emotionally charged processes of divorce and child custody,
Experienced and Aggressive Litigators/Courtroom Lawyers/Trial Lawyers
We believe the best defense – is a strong offense!
Our attorneys aggressively defend your rights.

No other Thailand law firm can match the abilities and capabilities of our team: Retired criminal court and appeals court Judge, Royal Thailand Police Lt. General, Legal Officer of the Thailand Court, Barrister, associate lawyers and investigators.

We are a trial law firm representing both defendants and plaintiffs
The trial of a case in court is war. As a result of a war in a criminal case people are either jailed or freed, in the family court children can be taken from their parent's, in the civil court fortunes can be lost. The key to winning a case at trail is through controlling the war. The most effective response to any attack is not a defense, but a counter attack that puts us in control. When our clients are attacked, we counter attack and our attacks are relentless.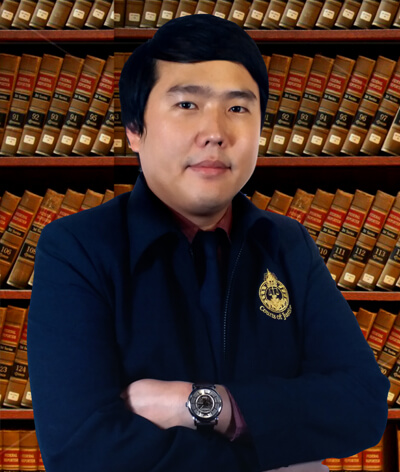 In civil and family law cases we have a reputation for our abilities at trial and our negotiation skills. Our bargaining powers during negotiations are aided by our reputation as strong trial lawyers. Opposing counsel knows that if the case goes to trial they will have a formidable opponent in Garn Tuntasatityanond & Associates.
We are respected by the prosecutors and judges in the courtrooms in which we often appear.
Benefits:
When you hire Garn Tuntasatityanond & Associates you will be represented by:
A Confident, smart, and aggressive trial lawyer/barrister who cares about you and is committed to providing you with a vigorous defense.
A seasoned trial lawyer with a great deal of experience with criminal and civil trials and has achieved an impressive track record of success.
Pending
Premeditated Murder in the first degree –Stabbing in Koh Samui – Israeli Mafia
Child Custody – Australian father
Possession of 150 kilos of heroin – death penalty applies
Rape – 30 year penalty if convicted
Possession of 1 kilo of cocaine – Phuket Airport – death penalty applies
Shoplifting – 2-3 year penalty if convicted
Possession of 0.5 grams of methamphetamines – 4+ year penalty if convicted
Possession of 2 grams of ecstasy – 6+ year penalty if convicted
Child custody – American father denied access to his child by Thai mother
Human Trafficking – Supreme Court appeal – 30 year prior sentence
Fraud /Embezzlement – plaintiff's attorney, civil and criminal
Fraud – defendant's attorney- Supreme Court appeal – 3.5 year prior sentence
Drugs – Supreme Court appeal – 33 year prior sentence 10,000 tablet "Ice"
Dismembered body found in freezer
Counterfeit passports – possession and distribution
Possession of firearms
Possession of 7.7 grams of ICE
Prosecution of fraud case against business partner – 100 Million Thai baht
Prosecution of fraud case against business partner –  5 Million Thai baht
Prosecution of fraud case against former spouse – 10 Million Thai baht
In Thailand more than 0.375 grams of any drug is charged as intent to sell
Whether you are faced with a criminal charge, divorce, child custody matter, or a serious civil dispute, you need an effective advocate working on your behalf. Our Thailand Lawyer's experience, reputation and track record assures that you will receive the highest quality representation.
We are a Thailand Law Firm specializing in trial law located in Thailand's capital city of Bangkok. Trial law is our sole area of practice; the other legal services we provide merely support our trial law practice. We are the most respected trial law firm in Thailand, all other law firms have little experience and expertise in comparison. Over 97% of Bangkok law firms focus solely on business law which primarily consists of generating documents, and very few of their lawyer's have ever seen the inside a courtroom.
Tags: Thailand Law Firm, Leading Thailand Law firm, Top Thailand Law Firm, Bangkok Law Firm, Experienced Thailand Lawyer, Experienced Bangkok Lawyer.